A flower is not a flower
NT$

1,180.00 Sold Out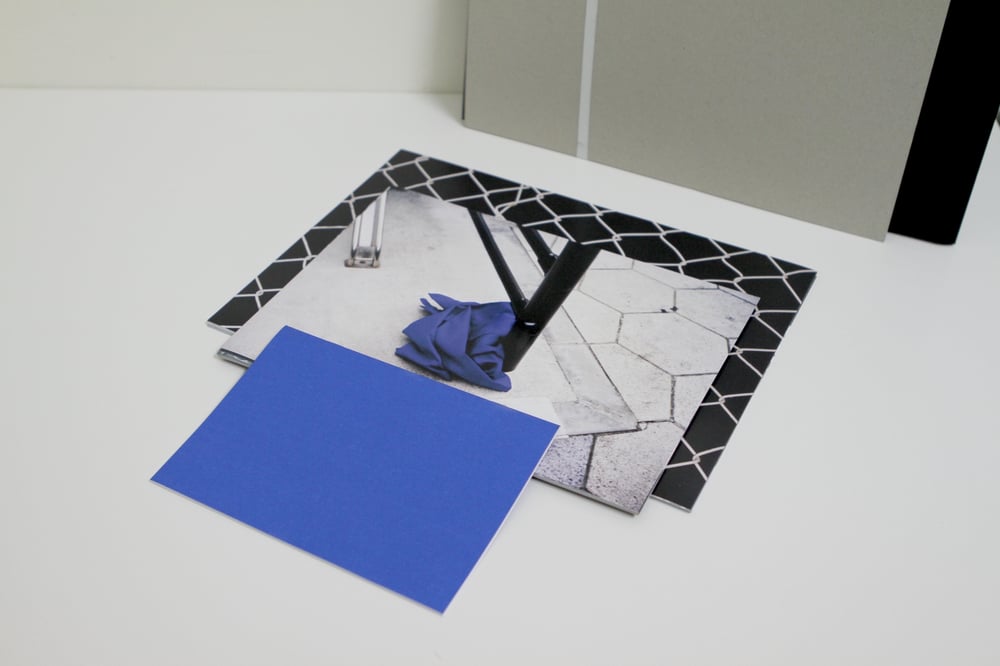 A flower is not a flower
張卉欣
A flower is not a flower 的所有照片都放在一個看起來很有份量的黑色資料夾裡,大部分都沒有裝訂過,除了當中一本藍色絨布小冊子。影像本身像是精心擺放的雕塑裝置,照片大大小小各式尺寸非常精準,張卉欣在書裡的照片每張都有明確規格,毫無誤差。觀者可以自行排列閱讀順序,照片有雙面及單面印刷,各種不同排列組合讓此書有好幾萬種觀看方式。讓人驚喜的是,書還另附作者挑選的隨機物件,及物件本身的相片,讓你擁有照片的同時也擁有被攝物,作者以此舉對照片的真實性提出疑問,你放在手上的物件是否真的曾經在照片中存在過呢?
0/4 - 漆黑文件袋外包裝
1/4 - 25.5x35cm / 單面印刷 / 無裝訂 15p
2/4 - 21x29.7cm / 雙面印刷 / 無裝訂 32p
3/4 - 14x20cm / 雙面印刷 / 騎馬釘 32p
4/4 - 隨機物件與其相片
版數:200
裝幀設計 : Jefu Huang
年代:2015
-
A FLOWER IS NOT A FLOWER
Hui-Hsin Chang
All the photos in "A flower is not a flower" have been placed in a rather heavy looking black folder. Most are not bound, apart from a very particular set that has been made into a blue velvet booklet.
These images are more like a sculpture installation, precise and exact in size. Zhang's photos are clearly defined and absolute. The format allows viewers to make their own sequence. By arranging single and double sided images, the viewer can have an infinite amount of interpretations by playing with the order and alignment of the images.
Surprisingly, the book also comes with a random object that has been hand selected by the author, alongside a photo of said object. The author seems to want to question the reality of the photo.
Did the object in your hand ever really exist in that photo?
0/4 - Black document envelope
1/4 - 25.5x35cm / Single side print / 15p
2/4 - 21x29.7cm / Double side print / 32p
3/4 - 14x20cm / Double side print / Sidle Stiching 32p
4/4 - Random Object with its Photograph
Limited edition 200 copies
Designed by Jefu Huang
Self published
Printed in 2015
Share